DO YOU OFFER FUN OUTDOOR ACTIVITIES?
Do you own an outdoor company, and do you offer various activities that cannot yet be booked online through your website? Or are you looking for a system to ease the process? Try out the booking system of LeisureKing. In 3 steps, your paintball, bumper soccer or other outdoor activities can be available for online booking tomorrow! The customer can book and pay immediately, significantly decreasing the number of e-mails and phone calls for you to answer. You will have time to spare!
All bookings are listed in a transparent overview, allowing you to see immediately who has booked what and when. And because the customer can pay in advance, you will have no more trouble with no-shows. And rest assured, because offline booking is still available. If a customer calls you or walks in, you can very easily add a booking manually.
SO HOW DOES IT WORK?
First, you set the time slot (for example, per hour or per afternoon) and the related equipment per activity. Then, when a booking comes in, the supply is updated automatically and the availability for this activity decreases. This way, your availability is always up to date, you always have enough equipment and double bookings become a thing of the past.
LeisureKing does not require you to redo your entire website to make online booking available. You only have to add a small window. You can even customize this window to fit the style of your website. No big changes required! Of course, you do not even have to make your outdoor activities available for online booking all by yourself; we are more than happy to help you personally.
LEISUREKING EXTRAS
You can add multiple locations and/or users free of charge for a complete overview in a single system. All your employees can also see which bookings have been made. Your activities can also automatically be offered on various external websites and platforms. For example, your activities can then be booked at hotel receptions, campsites, bungalow parks and tourist information offices in your area, by using
de Front Office app
. Our system lets you easily reach a much larger audience. And what about the deposit and upsell possibilities? Naturally, we thought of those too!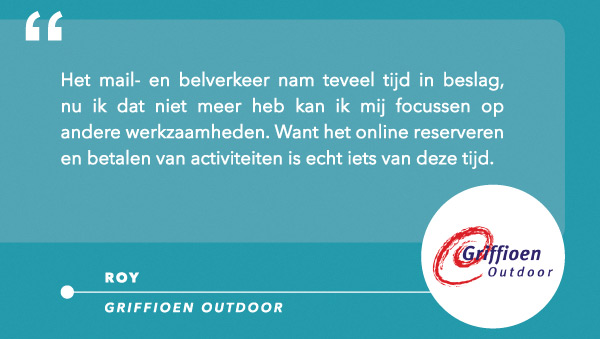 Voordelen van LeisureKing

Payment in advance, so fewer no-shows

No overflowing mailbox, less phone calls and more time

No monthly fees

Easy accounting

Larger reach thanks to bookings on various platforms

Faster processing of bookings in the store

Personal assistance for setting up/structuring the system

The system was developed based on personal experience