ORGANISING A ONE-DAY EVENT?
Organising an event and looking for an efficient and cheap way to sell tickets? Or are you looking for a system to ease the process? Then try out the booking system of LeisureKing! In 3 steps, your tickets can be available for online booking tomorrow! Perfect for events like an annual neighbourhood party, a fair, conference or other one-day event. Without extra high costs, because transaction costs per ticket are charged to the visitors.
All purchases are listed in a transparent overview, allowing you to see immediately how many tickets have been sold for the specific day. And because the customer can pay in advance, you will have no more trouble with no-shows. And rest assured, because offline booking is still available. If a customer calls or walks in on the day of the event, you can easily add a manual order to keep your overview.
SO HOW DOES IT WORK?
First, you set the maximum number of visitors of the event. Then, when a ticket is purchased, the total number of available tickets decreases automatically. The customer receives an e-mail containing a personal ticket with a unique barcode. The design of the ticket is entirely up to you.
LeisureKing does not require you to redo your entire website to make online booking available. You only have to add a small window. You can even customize this window to fit the style of your website. No big changes required! Of course, you do not even have to make your tickets available for online booking all by yourself; we are more than happy to help you personally.
LEISUREKING EXTRAS
You can add multiple locations and/or users free of charge for a complete overview in a single system. All your employees can also see which bookings have been made. Your tickets can also automatically be offered on various external websites and platforms. For example, your tickets can then be booked at hotel receptions, campsites, bungalow parks and tourist information offices in your area, by using
de Front Office app
. Our system lets you easily reach a much larger audience. And thanks to the LeisureKing barcode scanners, you can easily scan the tickets and immediately see how many visitors your event attracted.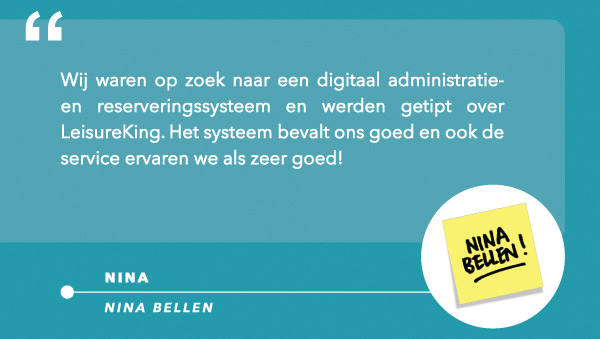 Voordelen van LeisureKing

Payment in advance, so fewer no-shows

No overflowing mailbox, less phone calls and more time

No monthly fees

Easy accounting

Larger reach thanks to bookings on various platforms

Faster processing of bookings in the store

Personal assistance for setting up/structuring the system

Faster processing at entry thanks to the LeisureKing barcode scanners